Terms & Conditions (Last modified 3/22/2023): Download PDF Version
PLEASE READ THESE TERMS AND CONDITIONS OF SALE CAREFULLY AS THEY APPLY TO YOU
Your use of this website is subject to the TERMS AND CONDITIONS set forth below. You should read them carefully before going any further.
By purchasing our product, the customer ("wholesale customer" or "you") agree to the following terms of use. If you do not agree to these terms of use, you will no longer be considered a High Voltage wholesale customer and will be prohibited from making any wholesale purchases directly or indirectly.
These terms and conditions apply to the sale by High Voltage Detox ("High Voltage") of any of our products and constitute a legally binding agreement with each purchaser of our products ("Customer" or "Wholesale Customer"), collectively the "Parties". These Terms and Conditions are subject to change by High Voltage without prior notice.
Wholesale Account Registration

By applying for a registered wholesale account ("Wholesale Account") with High Voltage Detox, you agree to the terms of such registration, along with any additional terms and conditions that govern the sale, or purchase of the associated products and services, which are hereby incorporated by reference.
You acknowledge and agree that the language set forth herein shall govern any and all sales transactions occurring between you and High Voltage Detox, including without limitation, online purchases, purchase orders, and telephonic orders.
You understand and agree that you are responsible for any activity associated with your designated wholesale Account.  You assume any and all risk associated with your wholesale account, the goods purchased via your wholesale account, and any subsequent sale or third party use of such goods purchased via your wholesale account.
You hereby expressly release High Voltage Detox from any and all liability for claims brought against you by a third party, arising directly or indirectly, from your transactions with High Voltage Detox or any products associated with such transactions.  Such claims include, but are not limited to forfeiture and enforcement proceedings.
Should High Voltage Detox be made a defendant in any proceeding, action or arbitration involving transactions associated with your wholesale account on the basis of breach of warranty, negligence, strict liability, tort or any other theory, you will indemnify and hold harmless High Voltage Detox from all costs and expenses incurred in connection with such proceeding, action or arbitration, including without limitation reasonable attorneys' fees and disbursements.
You understand and agree that You are responsible for all costs and expenses, including without limitation reasonable attorneys' fees and disbursements, incurred by High Voltage Detox in enforcing any of the agreed upon terms of use set forth herein, or incorporated by reference, therefore, you agree to indemnify and hold harmless and promptly reimburse High Voltage Detox for such costs and expenses.

Entire Agreement. All previous quotations and agreements relating to this transaction are hereby superseded, and these terms and conditions constitute the entire agreement between the parties as to the subject matter. All sales made by High Voltage are expressly conditioned upon customer's acceptance of these terms and conditions. If there is any inconsistency between these terms and conditions and those contained in any document submitted by customer, these terms and conditions shall control even if customer's documents expressly limit acceptance to use of customer's terms and conditions. High Voltage shall only be bound by such additional terms and conditions to which it specifically agrees in writing.
Sales. No sales are final until approved by High Voltage and we reserve the right not to enter into a sales agreement with a prospective customer. Once approved by High Voltage, all sales are final and no product can be returned. High Voltage reserves the right to limit the quantities shipped; or total sale amount in any order in its sole discretion.
Prices. All prices are quoted and payable in U.S. Dollars. All prices are subject to change by High Voltage without notice and revised prices shall be applicable to all unshipped orders.
Payment Terms. Payment terms are established in High Voltage's sole discretion. Unless otherwise agreed, all products are sold FOB (Freight on Board) High Voltage's shipping facility and payment is due from customer prior to High Voltage's acceptance of the order and shipment of the product unless customer has approved credit terms. Customer is responsible for all applicable taxes, including, but not limited to, sales taxes.
Defective/Expired Product. In the event that a defective product is discovered please notify a representative in our customer service department to obtain proper directions. All defective products will be handled by the manufacturer under the terms of their warranty. High Voltage is responsible for defective products that fall under the manufacturer's warranty coverage. High Voltage is not responsible for any products once they have been sold to a third party (i.e. retailer, wholesaler). Credit will not be issued for expired product unless inventories have been regularly submitted via fax or email on a quarterly (90 days) basis, to include the dates of all purchases. Notification of expired product must be received by High Voltage Detox before product reaches 12 months from its expiration date.
Product Content and Labeling.

High Voltage may revise its products at any time in its sole discretion. High Voltage's products are sold and labeled as dietary supplements in accordance with applicable requirements of the United States Food and Drug Administration. High Voltage is responsible only for the information about its products that is directly provided by High Voltage. High Voltage is not responsible for the content or accuracy of information or statements about its products that is not directly provided by High Voltage.
Our products are bottled and labeled for sale within the United States of America and we make no representation that our products are appropriately labeled or available for use in other locations, and access to our website or our products from territories where their content is illegal is prohibited. Customers who choose to purchase products from locations other than the United States of America do so on their own initiative and are responsible for compliance with applicable local laws. Customer may not use or export our products in violation of U.S. export laws and regulations. Should we honor a request to ship to a Customer located outside of the United States of America, customer will assume all risk and that the product and its labeling complies with the laws of the jurisdiction where the products are shipped to and customer will hold High Voltage harmless from, and defend it against, any liability which may arise from our products noncompliance with the laws of such jurisdiction.

Disclaimer of Warranties. THE FULLEST EXTENT PERMITTED BY LAW, HIGH VOLTAGE HEREBY DISCLAIMS ALL WARRANTIES FOR ITS PRODUCTS, WHETHER EXPRESS OR IMPLIED, INCLUDING, WITHOUT LIMITATION, THE IMPLIED WARRANTIES OF MERCHANTABILITY AND FITNESS FOR A PARTICULAR PURPOSE. No Customer is authorized to represent that our products have any properties, or will affect any particular results, beyond those claims made for the product by High Voltage in its packaging, marketing, or advertising.
Your use of any information or materials provided to you is entirely at your own risk, for which we shall not be liable. It shall be your own responsibility to ensure that any products, services or information made available to you meet your specific requirements.
Venue. In the event of any litigation between the parties, the exclusive jurisdiction and venue thereof shall lie in the state and federal courts located in Las Vegas, Nevada. High Voltage and customer consent to the jurisdiction and venue of such courts and waive all rights to seek access to any other court.
Purchase Order. Supplier agrees to issue purchase order invoices referencing the order number, line number (where applicable), release number (where applicable), item number, description of items, sizes, quantities, unit prices and extended totals. If an order contains more than one item, supplier's invoice will make the proper reference. The creation of a purchase order creates a legally binding contract which cannot be changed without the consent of both parties. Taxes, if any that are to be collected by supplier shall be stated separately and shall be remitted by Supplier to the appropriate taxing authority. All invoices shall comply with the requirements of each relevant taxing authority and shall contain data and registration numbers that will enable High Voltage to obtain appropriate credit for any taxes charged. All wholesalers/distributors are required to submit a reseller's permit and/or license with their first order.
Minimum Advertised Pricing (MAP) Policy
High Voltage has adopted this Minimum Advertised Pricing (MAP) policy to ensure the maintenance of its reputation with consumers for high-quality, effective products, as well as its ability to support the promotional efforts of its resellers.
Further, this policy has been implemented to combat the sale of competing products that infringe on High Voltage's intellectual property, and to prevent resellers from liquidating the High Voltage brand products that are past their printed expiration date.
Policy Coverage
The MAP policy applies to all resellers of the High Voltage brand who are selling in retail outlets to consumers (end-users), jobbers, cash and carry wholesale locations, and distributors. A reseller's choice to sell any High Voltage brand product constitutes acceptance of this policy in full, without confirmation, written or verbal, by the reseller of their acceptance.
This policy applies to all High Voltage brand products, including Xstream Fetish Urine. Please see the chart below for MINIMUM advertised pricing: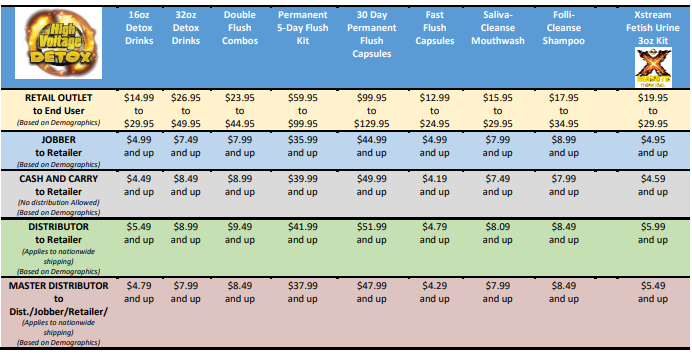 Minimum Advertised Prices
Minimum advertised prices for High Voltage brand products are equal to the published MSRPs (retail prices) published on this website or printed catalogs.
High Voltage may, at its sole discretion, periodically run promotions that include special promotional pricing. Such periodic promotional pricing may be mimicked by resellers during the promotional period only not to exceed 3 calendar days.
High Voltage is firmly committed to providing our customers with best in class, reliable products through authorized suppliers. Our policy is to honor product warranties only on products purchased from an authorized High Voltage supplier and only accompanied by a receipt or proof of purchase. If you purchase a High Voltage product from an unauthorized dealer or if the original factory serial number has been removed, defaced or altered, your High Voltage warranty will not be valid.
If you return an item to High Voltage for replacement, and that item is verified as either counterfeit or a product not manufactured by High Voltage, you will be notified via e-mail or phone with instructions for retrieving your item. You will have a maximum of 3 business days to request that the item be shipped back to you at your cost. This cost will be a shipping and handling fee of a minimum of $50 per shipment per box or market rate on pallet order,  Shipments are sent via FedEx ground or freight LTL.
Online Sales: You may sell the Products on websites that you own, operate, or that are operated on your behalf.
As of December 1st, 2019 all customers are prohibited from selling High Voltage Detox products on Amazon.com, or any other Amazon platform operated in countries outside the United States (ex. .ca, .cn, .mx, etc.) or directly to Amazon through Vendor Central. We have currently authorized only one online seller to act on our behalf, and will support any legal action taken against any entity that violates this clause.
You also may not sell Products on or through other third-party marketplace sites such as eBay, Jet, Rakuten, Baidu, or Alibaba without prior written consent from High Voltage Detox. You may not sell directly to amazon through vendor central. This provision will be strictly enforced.
Additional Terms
Our Detox cleansing products are sold as a dietary supplement. High Voltage Detox accepts no responsibility for any subsequent use and application of any of these products. Any references to 'Pass a drug test' or 'Beat a drug screening' refer only to private home drug testing, and are in no way to be considered a guaranteed result of use. Buyer / User assume all responsibility and liability associated with all products bought on this site. Statements made on this website are for informational purposes only and are not intended to be substituted for the advice of a medical professional. You should read all products packaging prior to use. We reserve the right, determination of which is in our sole discretion, to refuse all sales to any individuals or users of this site.  We do not condone or encourage illegal activity. You understand and agree that our products are not to be used for any illegal purposes, including use for lawfully administered drug tests.  If you are seeking information regarding any illegal activities, please leave this site immediately.  You also agree not to access this site if doing so would violate the laws of Your state, province, or country.
*The statements regarding these products have not been evaluated by the Food and Drug Administration. These products are not intended to diagnose, treat, cure or prevent any disease. The information on this Web site or in emails is designed for educational purposes only. It is not intended to be a substitute for informed medical advice or care. You should not use this information to diagnose or treat any health problems or illnesses without consulting your nutritionist or family doctor. Please consult a doctor with any questions or concerns you might have regarding your condition.
By placing an order with High Voltage Detox you agree not to use any of our products to defraud any test for illegal drugs. High Voltage Detox takes no responsibility for what you do with any of the products purchased from this website.
Buyer/user assumes all responsibility associated with the use of this product.
Buyer/User agrees to hold harmless all entities associated with this product.
The products on this website are not intended to violate any laws and are not for sale where prohibited.
Buyer/User warrants that products purchased are legal in his/her jurisdiction.
Buyer/User understands and agrees that our products are not to be used for any illegal purposes, including the use for lawfully administered drug tests.
We do not encourage or condone illegal activity of the use of illegal drugs, especially on the job or in the workplace.
Buyer/User warrants that he/she is of legal age.
All sales are final.
Parental Consent: If you are under 18 years of age, you must have your parents' permission to order. By purchasing product from highvoltagedetox.com, you represent that you are 18 years or older, or you have parental consent for this transaction.
Promotional Transmittals:  If you provide your information to High Voltage, you will have created a commercial relationship with High Voltage.  In having done so, you understand that even unsolicited commercial email sent from High Voltage, or its affiliates is not SPAM as that term is defined under the law.
Limited Liability: This website is controlled and operated by High Voltage Detox from its offices in Las Vegas, Nevada, USA. High Voltage Detox excludes all representations and warranties that material in and/or facilities or services offered through this website are available for use in other locations, or that they comply with any legal or regulatory requirements of such other locations. Those who choose to access this website, or purchase any of the offered goods on this website do so at their own risk and on their own initiative and are responsible for compliance with applicable local laws.
These terms shall be governed by and construed in accordance with Nevada law. Any dispute under these terms shall be subject to the exclusive jurisdiction of the Nevada courts and, by using this website, you hereby submit to the non-exclusive jurisdiction of such courts for such purposes and waive any and all objections to jurisdiction or venue in such courts.
NEITHER HIGH VOLTAGE DETOX NOR ANY OF ITS EMPLOYEES, AFFILIATES OR OTHER REPRESENTATIVES WILL BE LIABLE FOR ANY LOSS OR DAMAGE ARISING OUT OF OR IN CONNECTION WITH THE USE OF, OR INABILITY TO USE, THE MATERIALS IN AND/OR FACILITIES OR SERVICES OFFERED THROUGH THIS WEBSITE INCLUDING, BUT NOT LIMITED TO, INDIRECT OR CONSEQUENTIAL LOSS OR DAMAGE, LOSS OF DATA, INCOME, PROFIT OR OPPORTUNITY, LOSS OF OR DAMAGE TO PROPERTY AND CLAIMS OF THIRD PARTIES, EVEN IF HIGH VOLTAGE DETOX HAS BEEN ADVISED OF THE POSSIBILITY OF SUCH LOSS OR DAMAGES AND/OR SUCH LOSS OR DAMAGE WERE REASONABLY FORESEEABLE.
IN NO EVENT WILL HIGH VOLTAGE DETOX BE LIABLE TO YOU FOR ANY DAMAGES, LOSSES, AND CLAIMS (WHETHER IN CONTRACT, TORT INCLUDING, BUT NOT LIMITED TO, NEGLIGENCE), OR OTHERWISE EXCEED THE AMOUNT PAID BY YOU, IF ANY, FOR ACCESSING THIS WEBSITE OR USE OF ANY GOODS PURCHASED FROM THIS WEBSITE. THE ABOVE EXCLUSIONS AND LIMITATIONS OF LIABILITY SHALL NOT APPLY IN RESPECT OF LIABILITY IN NEGLIGENCE FOR DEATH OR PERSONAL INJURY.
No Agency Relationship: Nothing in these Terms and Conditions, nor the fulfillment of any product order or sales transaction by High Voltage, shall be deemed to constitute, create, imply, give effect to, or otherwise recognize a partnership, employment, joint venture, or formal business entity of any kind; and the rights and obligations of the parties shall be limited to those expressly set forth herein.
Miscellaneous: If any court of competent jurisdiction finds any provision of these terms to be void or unenforceable for any reason then such provision shall be ineffective to the extent of the court's finding without affecting the validity and enforceability of any remaining provisions.
Wholesale & E-Commerce Currency: All prices quoted are in US Dollars.
Amendments: We reserve the right to alter goods, prices and product descriptions, without prior notice.  We further agree that if we amend any of the provisions set forth in these terms and conditions, we will change the "last modified" date at the top of this page so that it is immediately obvious that the terms have been updated.  You agree to frequently re-visit this web page, and to use the "refresh" button on your browser when doing so.  You agree to note the date of the last revision to these terms and conditions.  Your continued use of, or access to, this site or any of our services after revision to any terms shall constitute your affirmative assent to any modifications thereof.  If you disagree with any such modifications, you are put on notice that you are prohibited from continued use or access to this site.
Medical: Always consider the advice of your doctor, nutritionist, or other qualified healthcare provider when making decisions about your health. Please consult a healthcare professional with any questions or concerns prior to beginning any dietary or nutritional supplement program, if you are a User with special health needs, or may be pregnant or nursing.
Legal Disclaimer: Any and all items sold by High Voltage are sold as dietary supplements.  High Voltage accepts no responsibility for any use and/or resulting effect(s) of such use of any products sold by High Voltage.  You assume any and all risk and responsibility arising from the purchase or use of the products sold by High Voltage. High Voltage expressly disclaims liability arising from the product descriptions and images provided.  Every attempt has been made to publish accurate information, but such accuracy is not guaranteed.  Accordingly, High Voltage does not adopt, nor endorse, any such published information.  The efficacy of such products has not been confirmed by research, and traditional use does not establish or suggest any claimed result. Each User's experience is unique, therefore, results may vary.
This does not affect your statutory rights.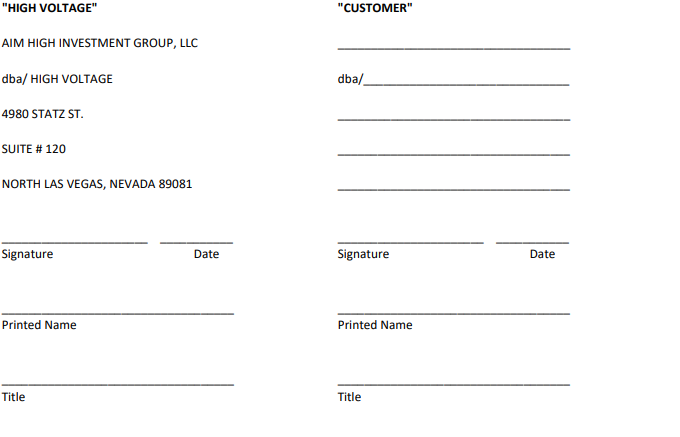 Terms
was last modified:
March 22nd, 2023
by